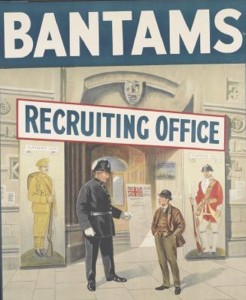 In honor of Veterans Day in America and what the British call Remembrance Day, here's an article honoring the Bantam Battalion, a group of over 50,000 British and Canadian soldiers under 5 feet 3 inches who fought in the trenches during World War I.
When the war broke out, the article reports, the British Army restricted entry to men over 5 feet 3 inches tall, turning away thousands of short men anxious to fight for their country.
A quote from a  a 5 ft. 2 ins. coal-heaver from North Lambeth:
"They didn't even let me inside. They said, 'get away home titch'." 
Ultimately, as the war dragged on and the short men persisted (as we always do), the British government relented.
There was even a paper produced to help the cause along entitled "Tall men versus short men for the army."
The report suggested:  'The short man has a smaller weight of body to carry and the weight of his clothing and equipment is less; he is lighter upon horse; he does not require so deep a trench, and offers a smaller target to the enemy.'"
In the end, the "Devil's Dwarfs" were allowed to fight and, sadly, only half returned home.
A Monty salute to the brave fighting men of the Bantam Battalion.